| | |
| --- | --- |
| Are you a Member yet? JOIN NOW to support the Des Moines Rehabbers Club! | |
Information can be gleaned from the building itself, the surrounding context, and the physical records of the building's change over time.
Examine the Context
Look at the house in relation to the other buildings on the block. Are all the homes the same architectural style? How does your home relate to adjacent homes in size and setback? Are the lots equal or different sizes? Answers to questions like these can help point your research in the right direction.
Determine the architectural style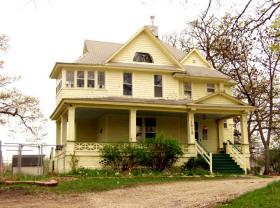 The home's architectural style can help date the original construction. Some online and print resources include:
A Field Guide to American Houses by Virginia McAlester and Lee McAlester (1984)
"Architectural Styles of America" (web page) at http://jan.ucc.nau.edu/~twp/architecture
Identifying American Architecture: A Pictorial Guide for Styles and Terms, 1600-1945 by John Blumenson (1981)
Architectural Clues
The house itself is an excellent historical record. Your initial work should include a detailed examination of the house for physical clues.
Additions/demo – Are there any obvious additions or portions removed?
Trim – Different trim profiles may indicate renovations
Windows and doors – Look for openings that have been closed up or created
Foundation – Examining the foundation may indicate additions to the house
Polk County Assessor Web Site
The Assessor's web site is not particularly accurate but can be a good start. You can find a floor plan outline, an estimate of the year built, recent ownership, and recent building permits. http://www.assess.co.polk.ia.us/ To look up a house, click on "Property Search" then "Homeowner Query" and type in the address and street name. Note that the historical address of the house may not be the same as the current address.